Horse Dreams
by
Dandi Daley Mackall
a
Tyndale Book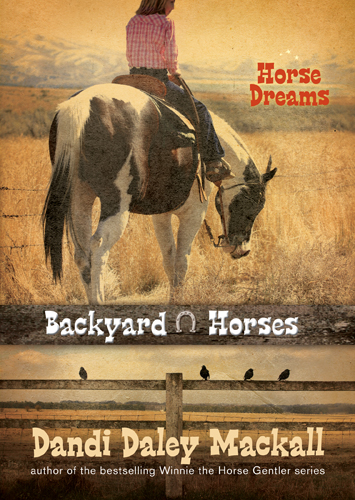 Ellie is a 10 year old girl who dreams, breaths, and thinks of horses. She has been praying, begging, and crying for a horse for as long as she can remember. So far, begging and crying have not worked, and she is aware those options are out. Her only hope is that God will answer her prayer. Then an ugly Pinto Horse shows up. A horse that does not look like Ellie's idea of her dream horse. But could this be the answer to her prayer?
Horse Dreams is a cute story about a little girl that loves horses. If your child is a horse lover, they will certainly enjoy this book! It is a great chapter book to read to younger kids or for older elementary age kids that are reading on their own.
Personally, I loved the fact that Ellie's brother is deaf. His "disability" is presented as a normal part of life and being. Kids that are not familiar with sign language or special needs will learn that
kids are kids first, and disability is always second.
I read the story to my daughter (who is also named Ellie). I thought the book would be a hit with her. However, she is not a horse lover and this book was too "horsey" for her. However, had this been a story about Ellie liking dogs, she would have loved it! Mackall knows how to write for children.
I received this book for free by Tyndale publishers in exchange for my honest review.